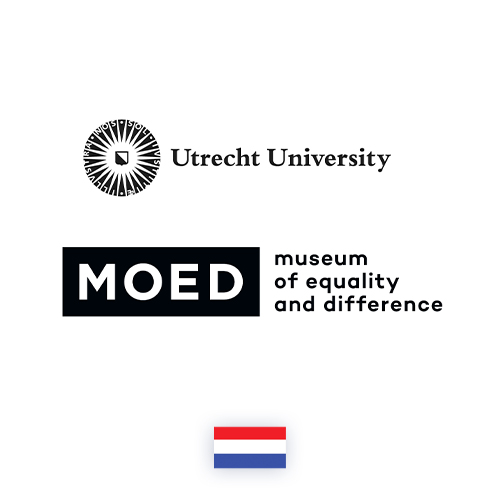 Universiteit Utrecht/MOED
Utrecht University is located in the city of Utrecht, the Netherlands, and is one of Europe's leading research universities, recognised internationally for its high-quality, innovative approach to research and teaching.
In the proposed project the UU Graduate Gender Programme (GGeP) will take the lead. GGeP offers an interdisciplinary international center for research, PhD training, academic teaching and political engagement in the field of women, gender and ethnicity. GGeP has a long-standing international reputation for its pioneering work setting up the infrastructure for the academic field in Europe. It is the ambition of GGeP to be at the forefront of feminist and postcolonial theory.
The programme develops critical perspectives in the fields of literary and visual studies, new media, science, and technology studies, human rights and post-humanism, history and the colonial archive, and the 'turns' in the humanities.
One of the GGeP's flagship projects is MOED Museum of Equality and Difference, an online museum and research project.
MOED aims to develop imaginaries of an inclusive society by investigating the following questions: What does equality look like, for whom, and why? What does difference look like, for whom, and why?
MOED does so by developing new ways of imagining, looking, and speaking that contribute, on a structural level, to equality, difference, and inclusion.
MOED believes that the dominant narratives presented in artworks, museum collections and exhibitions contribute to the shaping of norms and values in society.
MOED's overarching theme is to illuminate and dismantle mechanisms of inclusion and exclusion that define what is considered to be 'the norm' and 'the Other', and how art simultaneously upholds this binary while also holding the possibility to transcend it.
While MOED is located in an academic context, one of its main objectives is to disseminate knowledge to audiences outside of academia and reach a variety of people who are interested in the crossroads of art, politics and social justice issues. MOED does so through different projects, taking place both offline and online.
MOED has initiated multiple pilot projects centring around the dissemination of knowledge on the practice of making visible marginalised histories and knowledge perspectives in art, culture, and politics, which will be described in more detail below.
The website MOED.online publishes articles on pressing issues in the art sector and furthermore consists of an online museum, for which MOED collaborates with artists and art institutions to address how art plays a pivotal role in understanding and analysing social inequality.